Keep up to date with all of the very latest news about Guild Retirement Living here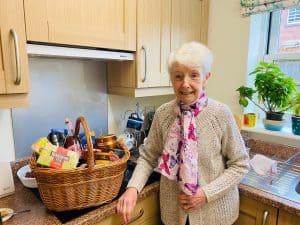 Our new owners at Linford Court, in North Walsham, were over the moon with their welcome hampers 😁
Read More
Linford Court has all the necessary safety features while keeping it user friendly. In our relative's apartment there are french doors leading to a lovely private patio and lawned area. Also, if required there are fantastic personal care and health care arrangements that can be used at any time of the day with a really good call system. In my opinion this is the best retirement accommodation available in the area and have no hesitation in recommending to potential residents.
My mother moved in to Linford court when life became difficult for her as she was suffering from dementia. As soon as she arrived I felt the staff were so amazing which took away so much anxiety from us, it was as if she was welcomed and wrapped in cotton wool and completely protected. Everyone kept us updated on her progress if we had to travel to help out the family with the small children. The staff were so kind, helpful and practical.
We love living at The Limes because it gives us a quiet, spacious, well-equipped apartment with the added bonus of optional meals, care and socialising when needed. We are blessed by having staff who are cheerful and helpful.
As we had reached our sunset years we felt it was time to move to a place where we could get help 24/7 if we needed it, yet we also wanted a place that we felt was our own private space, so we purchased a flat at Linford Court. We were a bit apprehensive as we still wanted to be independent, but we also needed to feel secure. This move fits our needs entirely and we are grateful to be living here. We cannot speak more highly of the kindly dedicated staff who go beyond the call of duty to help in any situation. Our neighbours are great too.
For further details, to request a printed brochure or to arrange a home visit, please contact us today:
Guild
Retirement,
North Walsham
– Linford Court, Yarmouth Road, North Walsham, Norfolk NR28 9AT
  01692 531738
All viewings are by appointment only